Hey! Don't throw your old computer in a landfill!
You can always give it to the 'tele' !!!!!
Follow the path of restoring an old abandonded Packard Hell Pentium 70 desktop and Pentium 120 desktop - Please give the pics a few seconds to load :)
---
Step 1 - below Taking out the Packard Hell's P70 tray with the CD ROM drive, floppy drive, and dying by the minute Hard Drive.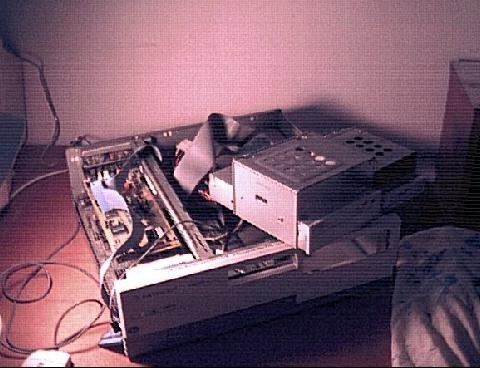 ---
Step 2 - below pieces strewn everywhere, installing and testing everything, all it really needed was a donated 1 gHz hard drive (Thanks Kenny!) which replaced the old rapidly dying hardrive. It would have several sectors go bad every few days, which made it impossible to keep any type of reliable programs, or OS going. I also found some RAM lying around which helped. The biggest obstacle was getting the Western Digital hard drive properly recognized. Take it from me, get the full install stuff from their website.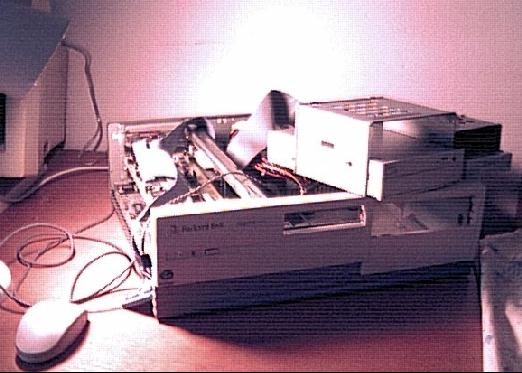 ---
Step 3 - below Everything connected and put through it's final paces. Note the funky Packard Bell / Aztech Sound Galaxy Card on the left. Somehow they came up with a funky collaboration to make the mouse on com2 / irq3, and the modem on com 1 / irq 4. Ass backwards, but it works. Cutemouse works solid, and only takes about 3k in memory, I got a generic CD ROM driver from bootdisk.com .
---
Step 4 - below The P120, left, and the Packard Hell P70, far right, with the help of a screwdriver and lovely assistant are once again ready for surfing the web, email, word processing, games, cd audio, etc etc etc. For internet surfing, I installed the Arachne Browser for DOS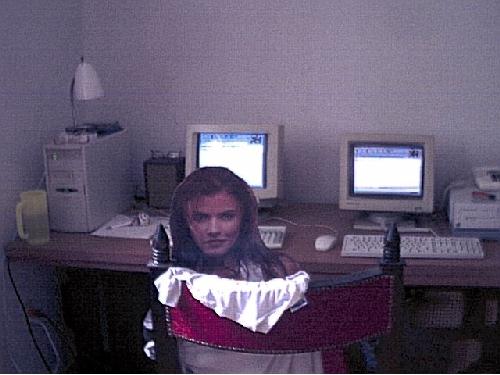 ---
Note: The P120 on the left, with only 16 megs RAM, can boot up, check my email, and go to my home page in under a minute! (Try THAT with windoze!) Yahoo's page loads in about 7 or 8 seconds. Next time someone tells you 'DOS is dead or obsolete', don't believe them!!! Also, chance of getting any windows worms or virii??? 0 (That's ZERO percent)
CLOSE THE WINDOWS AND KEEP THE INTERNET OPEN
---
Step 5 - below Now it's time for the 'tele' to go outside and play guitar and relax for a while :)

Most of these 'curbside specials' I end up giving (or selling very cheaply) to friends or aquaintences who are either unable to afford a computer or have never had one and aren't sure if they want to spend the big bux for the latest and greatest available.
Special thanks to all my pals at Arachne Chat for all their help and putting up with my never ending questions. :)


---
| home | contact | links |
---