Here are some pics of my music room and equipment
please be patient while the pictures load - I will try to remake this page with thumbnails as soon as I get a chance

BELOW: here is a picture of my 'little corner' with my guitar amps.
TOP: Peavey 4 channel powered mixer PA, mark III series.
MIDDLE: My Silvertone 1482 all tube guitar amp, made in 1965, it has been rewired and modded with a Fender Princeton 5C2 (or 5E2 ?) tone circuit and has vintage diamond telefunken 12AX7's and Sovtek 6V6's, the tone is pure classic rock heaven with a lot of barking and growling when pushed past 8 or 9 on the volume control.
BOTTOM: My Peavey Classic Combo 100 series 212 50 hybrid tube amp made in 1977. A pair of 6L6GC tubes push a loud 50 watts RMS into two 12" square magnet peavey speakers, 2 channel FET front end with the ability to run the channels in series or parallel, this has got to be one of the most versatile amps I've ever seen, not to mention the awesome tone, I've had LOTS of compliments on the sound of this amp, it just wants to make you play all day, maybe that's why I never get anything done? My favorite setting is with just enough over drive to give it a creamy blues sound, SRV would have loved it, but it will do anything from country clean, to jazz, to Santana infinite sustaining lead solo's to metal (with a little help from my pedalbord). These amps are very under rated gems, but those who have them know what they're all about.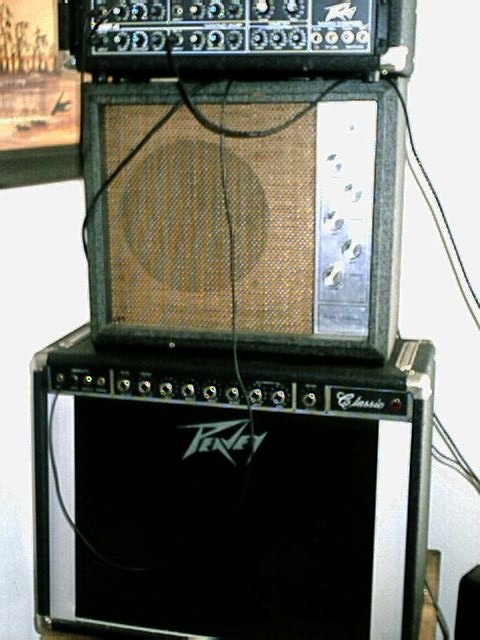 ---
BELOW: here is 'my little corner' shot from a little farther away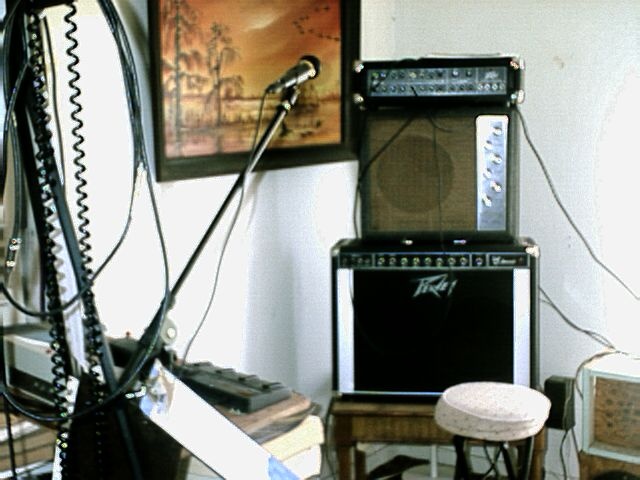 ---
BELOW: here is a picture of my guitars. TOP ROW, left to right: Lotus electric w/ dual humbuckers switchable as single coil, Fender La Brea acoustic electric w/ cutaway, Stella Harmony acoustic. BOTTOM ROW, left to right, fake Alembic bass (Hernandez?), Unknown strat type body with 2 single coil pups and added bridge humbucker and left handed arbor neck strung right handed, Epiphone strat (red), Fender Squire Strat (dark blue)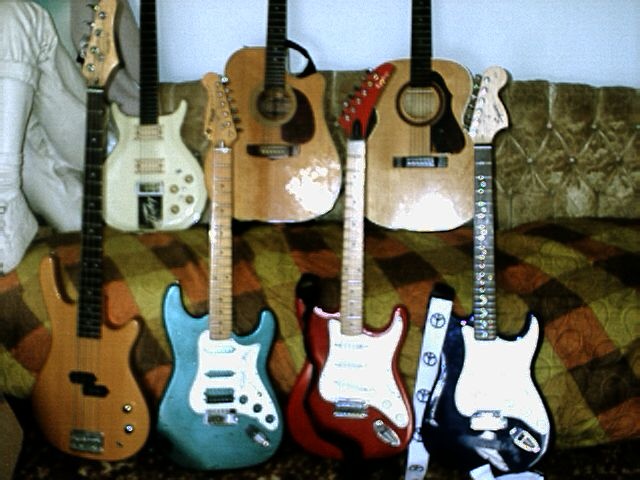 ---
BELOW: here is a picture of my patent pending pedalboard on a piece of "BIG ASS PLYWOOD", I kid I kid. On the top, left to right, vintage Big Muff, Ibanez Super Chorus. The large white box contains the circuitry for my homemade A/B switch. Bottom left is the ZOOM 2100 effects pedal used mainly for delay / reverb / flanging, but it's got a lot of other stuff in it too. To the far right is an old Maestro Fuzz-WAH-Phaser-distortion-volume pedal. The piece of channel steel has two foot switches, the big red one is wired to the Maestro pedal to kick in the distortion/high gain, the left switch controls my A/B circuit.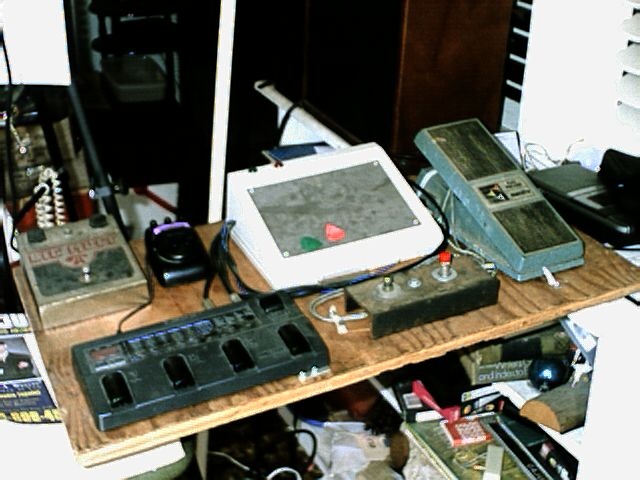 ---
BELOW: I couldn't call it a jam room without a set of drums. These are on loan from a friend and don't look like much, but they get the job done. You can't see the cymbals up top, but they're there, and yes, the 'throne' is a couple of upside down 5 gallon paint buckets, hey, whatdya' want for nuddin'?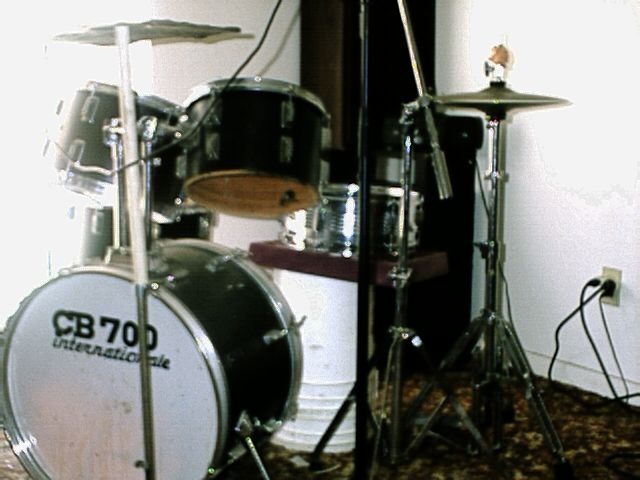 ---
BELOW: Here is a Fender Blues Deluxe tweed amp (top) that belongs to a drummer friend of mine. It's there for visiting guitarists friends, but I play straight through it now and then usually with my 'arbor strat', with the neck pickup it delivers an awesome throaty sounding blues. Underneath it is a Yamaha B-100 bass combo amp pawn shop prize I bought a while back, it's very nice, although I haven't figured out what, if anything I'm supposed to do with the two parametric equalizers it has. Also pictured is a pawn shop prize Fender Jazz bass I spotted in another pawn shop, I don't know if it's the real deal or a MIM reissue, but a friend who wanted to learn bass grabbed it and it's been hanging around ever since.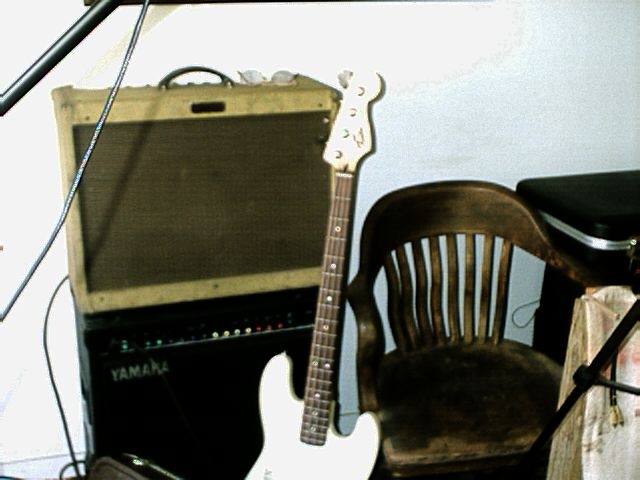 ---
BELOW: Here is a picture of the most obnoxious little guitar amp known to man, I kid you not!!! It's the pignose 30/60, made sometime in the early 70's I believe and fairly rare. This little bitch will even have the drummer screaming to turn it down and only a fool would sit directly in front of it, how pignose managed to put a tornado in a cabinet that's barely knee high I'll never know. It has only 2 modes, Off, and obnoxious. A wannabe metal heads dream come true I'm sure, but I hardly ever use it.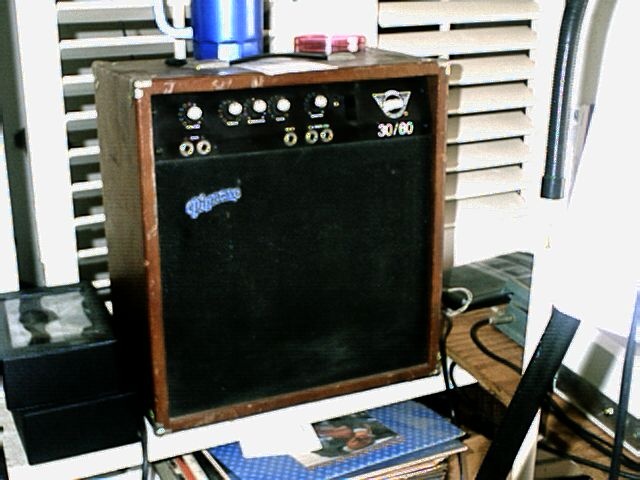 BELOW: Well, I figured as long as I was making this page I might as well take a picture of myself hamming it up.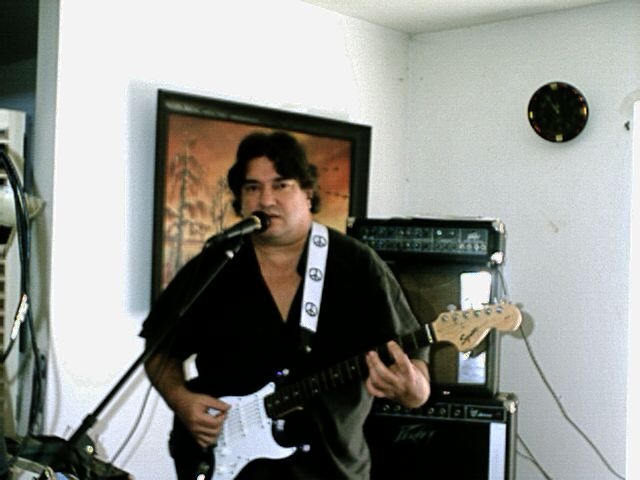 jam onward, my friends, may your notes be sweet and pure
SUPPORT LIVE MUSIC AND SUPPORT YOUR LOCAL MUSICIANS