PROJECT: THE LINKSYS 4 PORT ROUTER
This page will document my efforts to get a linksys model BEFSR41 4 port dsl/cable router/switch working with my sbc / yahoo dsl service which shipped with the speedstream 4100 dsl modem. My computer is a 1.8 ghz machine with a standard ethernet connection on the motherboard. When I signed up for yahoo SBC DSL, it included an install CD rom, which is what I used to get the DSL modem up and running on windows 98.
At this point, the DSL modem ONLY is connected, everything is up and running and works fine, in fact I can 'internet' in DOS, win98, and linux operating systems

However I am limited to only having DSL on this one computer. The linksys BEFSR41 dsl/cable 4 port router will hopefully let me connect to up to 4 other computers, while at the same time offering me the protection and security of a NAT firewall. My previous efforts have failed. The purpose of this page is to document my further attempts step by step, and refer friends and experts to give me their opinions and guidance.

BELOW: A screenshot of my browser set to the URL of http://192.168.0.1 which is the CONNECT page of the speedstream DSL modem.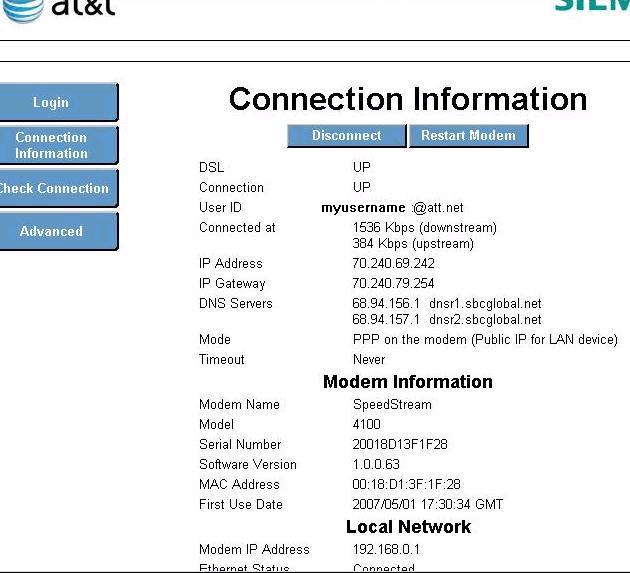 NEXT STEP
Hooked up the linksys router. Went to the setup page which is http://192.168.1.1

HERE IS A SCREENSHOT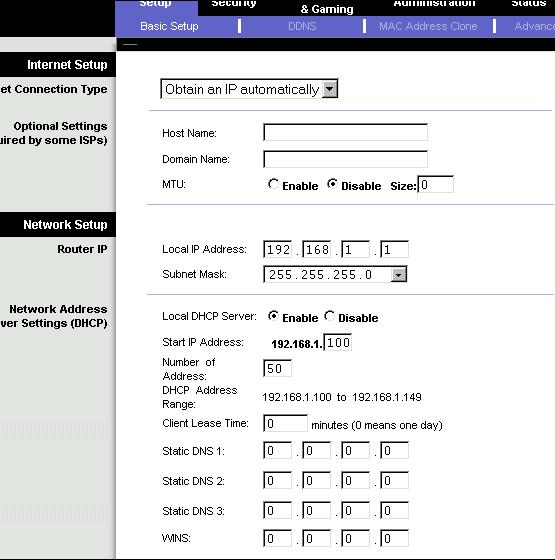 NEXT STEP
Here is a screenshot of the routers status page:
NEXT STEP
here is winipcfg screenshot
NEXT STEP
rebooted to linux, which was previously working fine using DHCP

No go with that either :((((((

root@mgnewbox:~# telnet cisbbs.nl
telnet: cisbbs.nl: Temporary failure in name
resolutioncisbbs.nl: Host name lookup failure
root@mgnewbox:~#
NEXT STEP - the SAGA continues....
Okay, today I followed the instructions to the letter on the linksys support page which by be found click here

all seemed to go well, and here is a screenshot of the routers STATUS PAGE - you'll note that the IP is not all zeros (0.0.0.0) which according to the linksys help page, means I SHOULD have internet connection now!! BUT I DON'T :(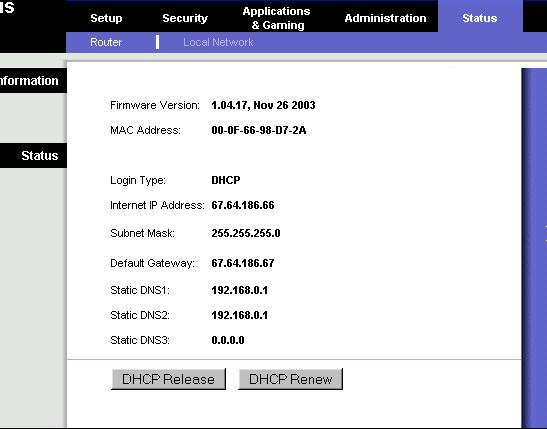 and after doing a 'power cycle' with everything, here is a screenshot again of the router's STATUS PAGE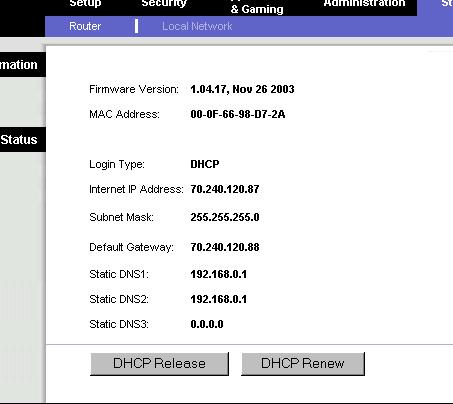 December 7th THE SAGA continues.....
Here is a screenshot of the BASIC SETUP / ADVANCED tab, and the 'router table', note I even tried to disable NAT
December 8, made a trip to microcenter and purchased a zonet router model ZSR0104CP
Brought the ZONET router home, plugged in the cables, and powered everything up.....

SUCESS !!! THE ROUTER WORKS FINE IN LINUX
BELOW: screenshot of router setup page in LINUX MOZILLA browser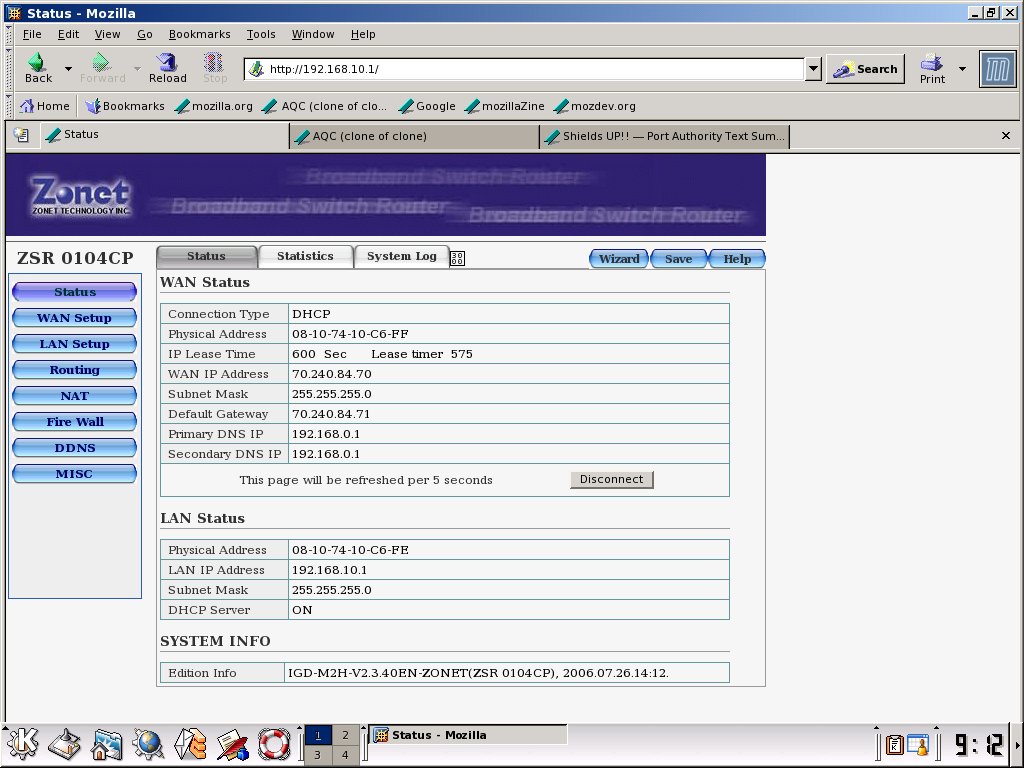 DECEMBER 11 - MORE SUCESS!!! I NOW HAVE MY DOS INTERNET APPLICATIONS UP AND RUNNING !!!!

I can now run DOS internet applications such as the Arachne DOS browser, email, telnet, and the Lynx 386 browser ported to DOS!!!
My settings in arachne.cfg
my_ip=192.168.10.102
netmask=255.255.255.0
gateway=192.168.10.1
nameserver=192.168.0.1

This is obviously going well, and now the last challenge (before networking to other computers) is to get windows 98 tcp/ip back on track. My problem with windows started when I decided to change the network settings to 'manually select IP'. After changing settings it prompted me to insert the windows 98 cd rom, which I didn't have handy, so I ignored it, it wanted something to do with Novel drivers and ODI, which I figured weren't important to TCP/IP, and subsequently, in 'systems devices', there were yellow exclamation marks around ODI, NDIS3, and NOVELL, and trying to 'update drivers' got me nowhere, so I deleted them, thinking windows would 'reinstall' them, which never happened.
December 14 - here are some Windows screenshots I took today.
SCREENSHOT of winipcfg


SCREENSHOT of network settings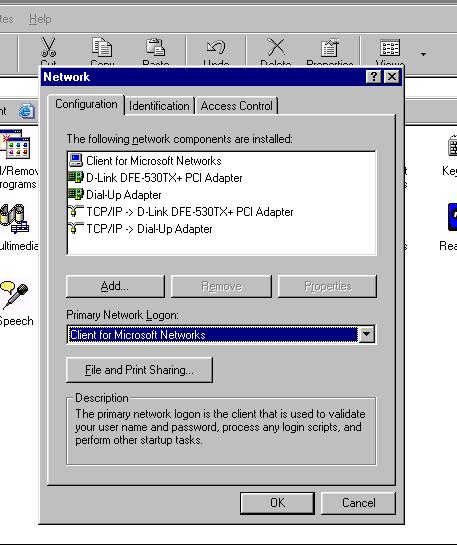 SCREENSHOT of 'devices' (the ethernet card is PCI)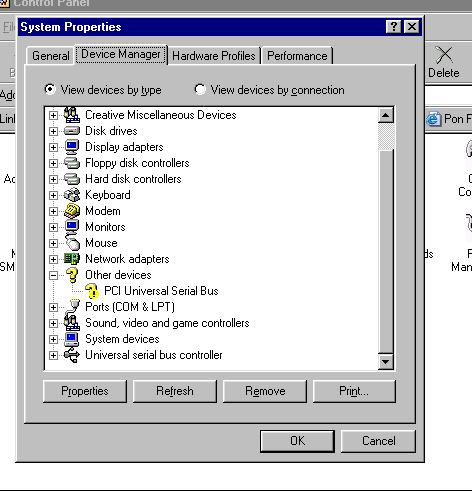 SCREENSHOT of ipconfig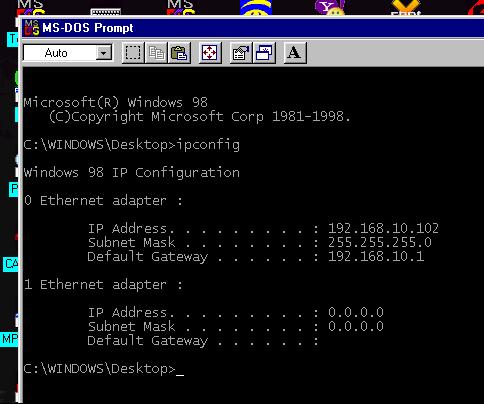 SCREENSHOT of netstat -e

soooooo, any ideas anyone ????
deltree c:\windows ????
format c: ?????

STILL NO INTERNET IN WINDOWS 98 !
meanwhile.....the router SAGA drags on !!! :((((
(at least for WINDOZE :((((((((
MORE TO FOLLOW
MORE TO FOLLOW
MORE TO FOLLOW
MORE TO FOLLOW
MORE TO FOLLOW
MORE TO FOLLOW
MORE TO FOLLOW
MORE TO FOLLOW
MORE TO FOLLOW
MORE TO FOLLOW
MORE TO FOLLOW